We're pleased to announce that ASTRO Gaming has offered their support to a range of community activities taking place at epic.THIRTEEN.
ASTRO will be offering their support to the pub quiz with some goodies for participants as well as arranging prizes for some of our fun tournaments, including:
epic.THIRTEEN sees a huge range of eSports tournaments including League of Legends, CS:GO, Dota2 and Starcraft 2 as well as masses of community activities such as the epic.HUNT, pub quiz, big games, fun tournaments, live DJ sets, card and board games and more! If you want to enjoy an awesome weekend of gaming, then make sure you grab your ticket now at www.epiclan.co.uk/epic13.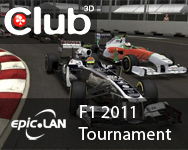 This mornin saw ourClub 3D F1 2011 Fun Tournament take off with a huge number of participants all wanting to claim pole position and take home the Club3D graphics card from our sponsors. We ran two games and the players going through to the final tomorrow will be:
Mark Rapson - 130points
Booti - 122points
Mastchief - 121points
Vertigo - 101points
Mark Smallwood - 97points
Hodgster - 85points
Peter Augustin - 80points
Matt2k34 - 64points
Elsie - 64points
Nick Thompson - 63points
Paul busby - 50points
Rolphus - 28points
Make sure you catch the action tomorrow its sure to be an exciting race to the chequered Flag.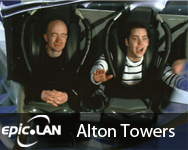 The epic.LAN Team invite you to join us for our 2011 trip to Alton Towers from Friday 23rd - Sunday 25th of September.
Join us on the Friday for some drinks and socialising followed by a trip to Alton Towers on the Saturday. We'll be having a BBQ after the trip on Saturday and on Sunday you can either take a trip to Waterworld or watch the F1 Singapore Grand Prix.
For more information and to book visit the Alton Towers 2011 page!