As we celebrate five years of support from ASTRO Gaming here at epic.LAN, we're excited to announce that both ASTRO and Logitech G will be back to support epic27 in force this June for both casual and esports participants.
Firstly, the Rocket League tournament prize pool has been boosted thanks to LogitechG with participants now able to win up to £2500 plus Logitech G prizes for 1st & 2nd Place.
Then the casual gamers will have the chance to win amazing ASTRO and Logitech G gear in a range of fun tournaments.



Casual gamers at epic26, don't think that we forgot about you with all the recent announcements! The Logitech & ASTRO Gaming family have got you covered too as they'll be supporting even more activities at epic26, including:
Fun PUBG Squads Tournament
Breakfast & Chill Stage Shows
Pub Quiz
And thanks to Logitech & ASTRO support on the pub quiz, that also means that all your entry fees will be donated to Special Effect!




Our regular friends over at ASTRO Gaming will be supporting a number of fun tournaments this weekend with ASTRO A30 Headset + MixAmp™ Pro sets up for grabs. The following tournament winners get to take away the awesome headsets:
Opening Ceremony
Rocket League
Super Smash Bros (Wii U)
The opening ceremony competitors are already set, but there's still time to sign up to our Rocket League and Super Smash Bros tournaments taking place this weekend at epic.SEVENTEEN.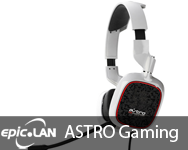 Great news for some of our fun tournament winners, you'll get to take away some neat ASTRO gear if you're good enough!
We'll have the following prizes for the Minecraft, Chivalry and BF1942 fun tournaments:
Find out more about our casual gaming timetable and make sure you join us at epic.FIFTEEN next week to be in with a chance of winning.

Our friends at ASTRO Gaming, makers of some pretty awesome audio gear and accessories, are back for epic.FOURTEEN, namely to support the biggest tournament of the event...the pub quiz!
We'll have some great goodies as part of the quiz, including an amazing A40 PC Headset and 4xA30 PC Headsets that we'll be giving away throughout the event!
If you want to be in with a chance of winning, make sure you have your epic.FOURTEEN ticket and are taking part in the quiz on the Friday night of the LAN!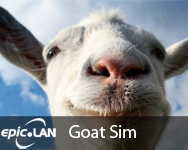 So today at epic.THIRTEEN we saw a Goat Sim tournament... see we really weren't 'kidding' around....
The competitors went up against each other in groups of 4 and to go through they had to score as many points as possible in 5 minutes. The competitor with the most points went through to quarter finals and so on to the final which changed slightly in that instead of playing on the standard map they played a game of Goat Hockey where they had to score as many goals as possible in 5 minutes.
The spectators seemed to really enjoy it and we think it was a mad but fantastic idea.
Congratulations to Matty2050 who took the title of Goat Sim Tournament winner. You have some fab goodies from ASTRO Gaming!


We're pleased to announce that ASTRO Gaming has offered their support to a range of community activities taking place at epic.THIRTEEN.
ASTRO will be offering their support to the pub quiz with some goodies for participants as well as arranging prizes for some of our fun tournaments, including:
epic.THIRTEEN sees a huge range of eSports tournaments including League of Legends, CS:GO, Dota2 and Starcraft 2 as well as masses of community activities such as the epic.HUNT, pub quiz, big games, fun tournaments, live DJ sets, card and board games and more! If you want to enjoy an awesome weekend of gaming, then make sure you grab your ticket now at www.epiclan.co.uk/epic13.

It looks like the UK League of Legends Community is leading the way at epic.TWELVE, with by far the biggest number of teams attending! Their efforts haven't gone unnoticed, as ASTRO Gaming have agreed to boost the prize for the winning teams with around £1400 in awesome kit for the top 2 teams adding to the epic.LAN cash prize and RP on offer.
Check them out on Facebook and Twitter for their latest products and updates.
There are still tickets available for epic.TWELVE, so make sure you grab your ticket and sign up to your tournament now!