The great Johnny Vaughan and Denise Van Outen used to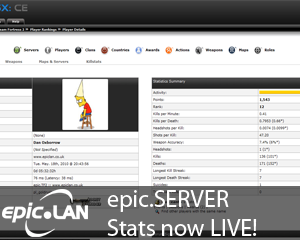 sing about vital statistics every day in The Big Breakfast; while their stats were less than vital, here are some MORE epic.Stats you just won't be able to live without.. well.. maybe..
For the last few weeks we have been monitoring our TF2, L4D and L4D2 servers. We have gathered some interesting statistics about how well you play, some better than others :)
So dive in and have a look, see if you can find yourself on our player listings and see who your worst enemies are so you can get revenge next time you play!
For a full list of commands while ingame type "help" in chat.
have fun... :)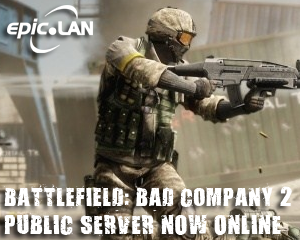 One of the most exciting and immersive first person shooters of the year, Battlefield: Bad Company 2, is here to show Modern Warfare 2 how it should be done!
Where this game lacks in single player campaign action, it more than makes up in it's multiplayer gaming; from huge maps, excellent team play, destructable landscapes and amazing sound design, this game has it all!
And epic.LAN is pleased to announce that we now have a public server up and running which is already proving to be very popular!
To join the server, simply search for 'epiclan' in the game server browser and join in the intense action!
We have a range of public servers running for the community members, including TF2, L4D & L4D2, Neotokyo and Quake3 as well as others on request or for our games nights. To find out more about these servers, and our Mumble server, visit our Game Servers page.
See you on the Battlefield!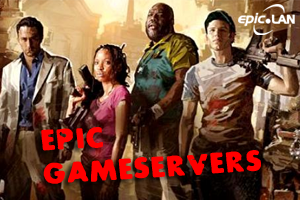 Can't wait for the next epic.LAN? We now have a number of public servers up for:
Team Fortress 2
Left 4 Dead
Left 4 Dead 2
Counter-Strike: Source
To use our Left 4 Dead servers, the lobby leader needs to open up the console and type in "sv_search_key epiclan", when the game starts you should end up on our servers!
See which servers are running, and who is playing by visiting epiclan.co.uk/servers.
Don't forget to join us for our games nights too, taking place every Tuesday at 8pm, put it in your diary now!