The great Johnny Vaughan and Denise Van Outen used to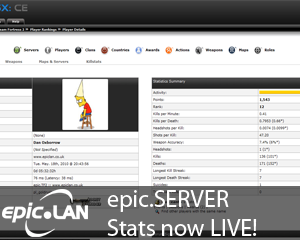 sing about vital statistics every day in The Big Breakfast; while their stats were less than vital, here are some MORE epic.Stats you just won't be able to live without.. well.. maybe..
For the last few weeks we have been monitoring our TF2, L4D and L4D2 servers. We have gathered some interesting statistics about how well you play, some better than others :)
So dive in and have a look, see if you can find yourself on our player listings and see who your worst enemies are so you can get revenge next time you play!
For a full list of commands while ingame type "help" in chat.
have fun... :)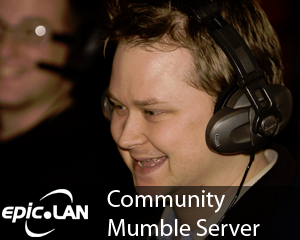 Good communication is the key to winning, from commanding a battle fleet to fighting an ork or just to get yourself healed by the team medic when you need it! We are proud to announce our first epic.Mumble server is open for business.
This will make our weekly epic.Tuesday events even more fun with cross-team chat & banter.
But this is not limited to just Tuesday, the server has a plethora of different channels allowing you to communicate to the people playing the same game as you.

So come and join us and mock everyone as you steal their dog tags in Battlefield, or stab them in the back in TF2, or nom on them as a face hugger in Aliens vs. predator.

Server Details
Address: mumble.epiclan.co.uk
Port: 64738 (default)
Password: epic

And don't forget to buy your tickets for our next event epic.FOUR at the end of July as well as keeping an eye out for the release of new dates for our epic.lite series of events later in the year. epic.lite 2 will be coming to a Bagnall near you!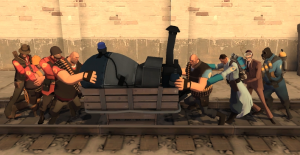 epic.Tuesday is on the horizon and this week we will be having some fun on some Payload maps... We have a nice selection of normal Payload and Payload Race maps to have a go at.... :)
pl_swiftwater
plr_pipeline
pl_orangebomb
plr_panic_a8
pl_Hoodoo
If you have any suggestions for any other awesome Payload or Payload Race maps then feel free to tell us and we will look at getting them on the server for tomorrow. :)
See you all at 20:00 hours for some back stabbing, head shoting, flame throwing, baseball batting, uber charging, rocket jumping, sentry gunning, sticky bombing CART PUSHING!!!....
Dunce out...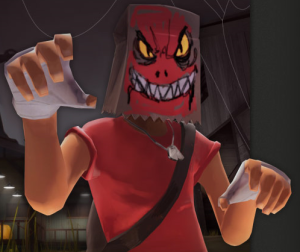 That's right it's Halloween and the TF2 team have made a map, added 5 new achievements and HATS especially for it!! Yes hats, I said HATS!!!!
Tonight from 8:00pm our TF2 server will be running the new koth_harvest_event map for some scary Halloween fun....
So carve up your pumpkins, make them into funky looking faces and slap on a Gibus hat for the epic.Spooktacular event tonight!!!
epic.LAN accept no responsibility to any persons getting scared during the event... :)
Find the server IP by visiting epiclan.co.uk/servers.
In true epic style, we will be holding
"epic.Tuesdays"
This is a good chance for everyone in the epic.Community to get together and play some games... Infact, bring a friend along... for FREE... The more people playing the merrier...


This coming Tuesday 27th October will be TF2... So get out your sniper rifles and spin up your machine guns and lets get some good old fashioned gaming going....


Be there at 20:00 with your sappers at the ready!!

Dunce out...