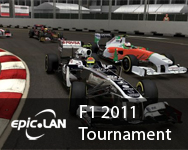 Always very popular at our LAN events, we've decided to keep F1 2011 in the fun tournament lineup. We did consider moving to F1 2012, but quite a few of our participants decided not to buy the latest sequel, so we'll stick with an old favourite to hopefully get more people taking part!
Exact format will be discussed over the next few days, so let us know how you'd like it to run.
And watch out for Elsie in your mirrors, he likes to use you as a brake!
So in the social hall we had three Fun Tournaments and they were packed with players all battling it out to win prizes from our sponsors.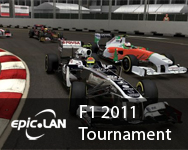 The F1 2011 Tournament was won by Booti who won an Avermedia Live Gamer HD and hot on his heels was Hodgster who took home a Tt eSports Mouse.

The UT2K4 Tournament was won by someone other than Vardy this time round! So in first place we had GotenXao who won a Tt eSports PC case and in second place was Dae who won an intel external HD.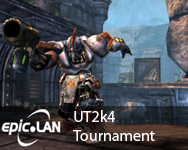 The Beach Volleyball proved to be a popular stand in for the boxing and if you've seen the images on our galleries i think you'll agree it looked like fun! The winner was Antrobus who took home an Avermedia Live Gamer HD and smashing his way to a close second was Adunas who took home a Steel Series mouse.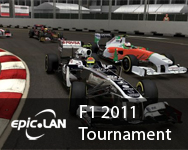 After 2 days of racing and incidents the F1 2011 at epic.Nine is completed. With Booti and Omega Hunter holding 1st place in the championship it was all to play for. Hodgster sat in 2nd 10 points off.

It was a really close final race with the grid spread. Booti worked his way up from 7th to 3rd Behind Hodgster and Matt 2k34. Omega Hunter had made a bad decision on the set up so could not find pace or balance. The race was a wet one which made it especially hard work to put a fast lap in.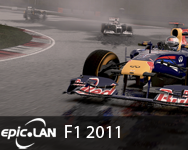 Well after the last F1 2011 tournament with one of the highest numbers of signups of the whole event, it would be silly not to do it again!
So F1 2011 is back for epic.NINE as one of our fun tournaments. Let us know what tracks, rules you'd like us to run and we'll get everything ready for the LAN!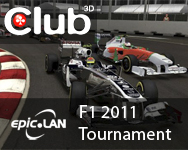 The first of many announcements over the next two weeks about epic.EIGHT!
With the massive F1 following in the epic.LAN community, then it's a no-brainer for us to run a fun F1 2011 tournament at epic.EIGHT! We've seen some great games of F1 2011 at our smaller elite events and with our community games nights so we're hoping for some great racing in this fun tournament!
And to make it even better, Club 3D will be kindly sending along a GeForce GTX 560Ti Green Edition graphics card for the lucky winner, so there's some extra incentive for Elsie not to get black flagged this time!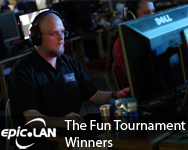 During the weekend of epic.SEVEN we had our usual big games and fun tournaments going on. We are pleased to announce the winners and runners up of these fun tournaments who were awarded with achievements and some PC peripherals. The winners were...........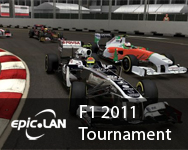 Think you can be the next Lewis Hamilton or Jenson Button?
Well now is your chance to shine through and prove youreslf as the ultimate racing king with our F1 2011 tournament.
This seems like the ideal racing tournament to host at epic.SEVEN with such a big Formula 1 following in the community. However do not fear if you have yet to get the game as you can pick it up for just £19.99!
Not yet booked for epic.SEVEN? Want to attend and take part in this tournament? Make the most of payday and book now!