After launching a successful 3 day breakfast meal voucher a few LANs ago, KCC and ourselves here at epic.LAN are pleased to announce that now you can also pre book a 3 day evening meal voucher.
The 3 day evening meal voucher is £13.50 and entitles you to one of the main £5.00 meal options each night of LAN. Pre purchasing your meals couldn't be easier just go to your event booking and add it as a service your vouchers will then be allocated to you when you check in to the event.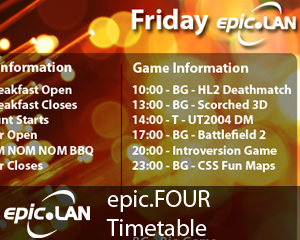 The first draft of the epic.FOUR timetable is now available.
Our event timetable lists key event activities such as catering times as well as our more organised big games and tournaments. The timetable will also be available on our intranet and big screen systems throughout the LAN and will be updated with any changes during the event.
Although we do timetable some games, it doesn't mean that you can't play games not listed in the timetable, in fact there is loads of spare time in between the big games for you to organise your own smaller games and social activities.
There are just under two weeks left now before epic.FOUR, so if you haven't yet grabbed a seat, make sure you book now to avoid missing out on our great scorching summer LAN!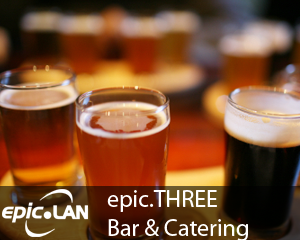 It's clearly time to announce some of the more important details about epic.THREE (25th-28th February), the bar times & prices and breakfast times!
For epic.THREE we will be using a large bar in the main hall with a huge space set aside for socialising, drinking, eating, playing card/board games and consoles. The bar will be open at the following times:
Thursday - 5pm - 12.30am
Friday - 1pm - 12.30am
Saturday - 1pm - 12.30am
In addition, we'll also have breakfast being served every morning from 9am - 11am in the main hall, so you can get your morning nom without even having to leave the venue!