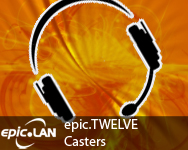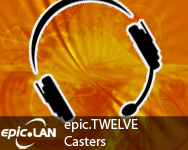 So with mere days until epic.TWELVE our casters are all set to deliver some top class coverage of our tournaments. If you're missing the event but want to keep up with all the competitive action head over to our Twitch channels where you will find find Wardi & VocTer casting the SC2 matches, Excoundrel & s0na casting the LoL matches and last but not least BanKs will be casting the CS:GO matches.

If you missed the announcement of the casters for the ESL DOTA 2 Challenge you can find it here.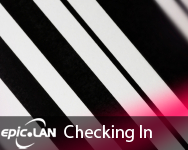 It's that time, epic.TWELVE is nearly upon us, so here are some last minute tips to help speed up check-in at the event:
If you are planning on paying for a participant place on the door (if there are spaces remaining), please create a booking on the system in advance, it's still fine to pay on the door (though seats aren't guaranteed), but will save time on the day.
Remember, the doors open at 4pm, if you arrive any earlier, we'll ask you to wait in the downstairs bar (open from 2pm) until we are ready for you.
On another note, please make sure you update your games before you attend to help us save bandwidth at the event.
See you on Friday! And don't forget to go through our handy checklist while you're packing to make sure you don't forget anything!

Even more awesome news! The MSI Notebook team will be joining us at epic.TWELVE, and are going to be running a frantic League of Legends time trial competition. Players will need to team up with their buddies and attempt to secure the fastest bot-team win at the event. The contest will run on Friday and Saturday, with the victors announced on Saturday night, and the five winners will take home a selection of great MSI prizes!
Attendees will also have the opportunity to try out MSI's fantastic range of Gaming Series Notebooks – so make sure to pay the MSI stand a visit in the Gallery.
The MSI guys are also offering a chance to win a fantastic Primo 73 tablet through Facebook. Just visit the MSI Notebook page during the event, like it, and post saying what you are most looking forward to at epic.TWELVE. The winner of this awesome giveaway will be announced on Sunday 16th February, so don't miss out!


Over recent months, there have been a number of high-profile DDOS attacks against eSports events around the world causing huge distruption to both the event and everybody wanting to enjoy the games online. While epic.LAN is a far smaller event, it doesn't mean to say we're immune to this sort of activity.
One of the common factors in these attacks is the use of Skype for team voice comms as it exposes the IP addresses of players making them an easy target, not to mention of course a few hundred people all using an external communications tool is always going to put extra pressure on network connections when it isn't really needed.
Now we don't want to go as far as blocking Skype, as it does have plenty of general uses for people to keep in contact with the outside world, but we'd certainly like to encourage all of our participants to use internal voice communications tools that we provide free of charge, such as Teamspeak and Mumble where you can host your own private channels locally to reduce the risk of any issues during the event.
If you need any assistance with these tools during the event, please do ask a member of staff. As always, we'll monitor any network traffic issues constantly and if necessary may have to look at limiting Skype use during the event if we notice any problems.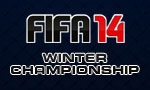 News just in from the team over at Sweetpatch.TV as GUNNAR Optiks confirm their sponsorship of the FIFA14 Winter Championship.
GUNNAR will be contributing a total prize pool of £500 to the FIFA14 Winter Championships. The winner will take home all £500 and a pair of GUNNAR Optiks.
If you want to take part, make sure you grab your epic.TWELVE ticket, then make sure you sign up to the tournament using your epic.LAN username.
It's official, epic.TWELVE will be our biggest LAN yet! With just under two weeks to go we've just hit the 300 mark and as it's pay day weekend, with a number of teams still to confirm, we expect it to carry on growing.
We still have tickets available and spaces in all rooms so grab your ticket now if you don't want to miss out!!
Oh and watch this space for another exhibitor announcement over the next few days!

It looks like the UK League of Legends Community is leading the way at epic.TWELVE, with by far the biggest number of teams attending! Their efforts haven't gone unnoticed, as ASTRO Gaming have agreed to boost the prize for the winning teams with around £1400 in awesome kit for the top 2 teams adding to the epic.LAN cash prize and RP on offer.
Check them out on Facebook and Twitter for their latest products and updates.
There are still tickets available for epic.TWELVE, so make sure you grab your ticket and sign up to your tournament now!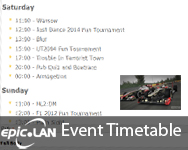 After listening to your suggestions for our timetable we have put together this social game timetable for epic.TWELVE. It sees the return of LAN classics and some new items for you to have a go at.
Don't forget to get all the games you want to play installed and updated before you get to the event. ;)

We're very pleased to confirm our first exhibitor for epic.TWELVE - Microsoft Global Test Organisation (GTO) who will be coming along to talk about roles at GTO Europe. They had this to say about coming along to the event:
We are the Global Test Organisation for Europe and we have a range of exciting roles. We test video games and entertainment applications on all Microsoft platforms: Xbox One, Xbox 360, Windows PC, Surface and Windows Phone. If you're passionate about games, join us to work on developing the next amazing entertainment experience and become one of our skilled testers!
During the epic.TWELVE event we'll be introducing ourselves as a department and running a few gaming competitions. Take up the challenge and show us your skills to get some freebies!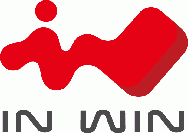 We're please to confirm that our very good friends at InWin will be back once more to support epic.TWELVE with an awesome range of prizes and giveaways for our fun tournament series at the event.
Make sure you check out their fantastic cases and PSUs over on their website, then grab your epic.TWELVE ticket to have a chance of winning!
Oh and while you're there, give them a like on Facebook where they have regular competitions and giveaways to win cool stuff!
Page 2 of 3